Regular price
$89.00
Sale price
$62.00
Unit price
per
Size chart
View full details
Details
The Premium Noir contrast stitch  oversized hoodie Made by Noir is defined by its details. This piece offers luxury comfort and style for any occasion with its premium construction, High quality embroidery and contrast stitch detailing.
The fine details on this oversized hoody is what makes it truly stand out from any other brand.
Model is wearing a Large. Fit Oversized. If you are after a more true to size fit we suggest you size down. 

Features:
- Iconic Noir bullet symbol (back)
- Oversized hood
- 100% Cotton (Heavy weight)
- Colour: Black
Very Limited stock. 
Shipping
free shipping for all orders that are over $100
Return
If you are not 100% satisfied with your purchase, you can return your item(s) to us for an immediate exchange.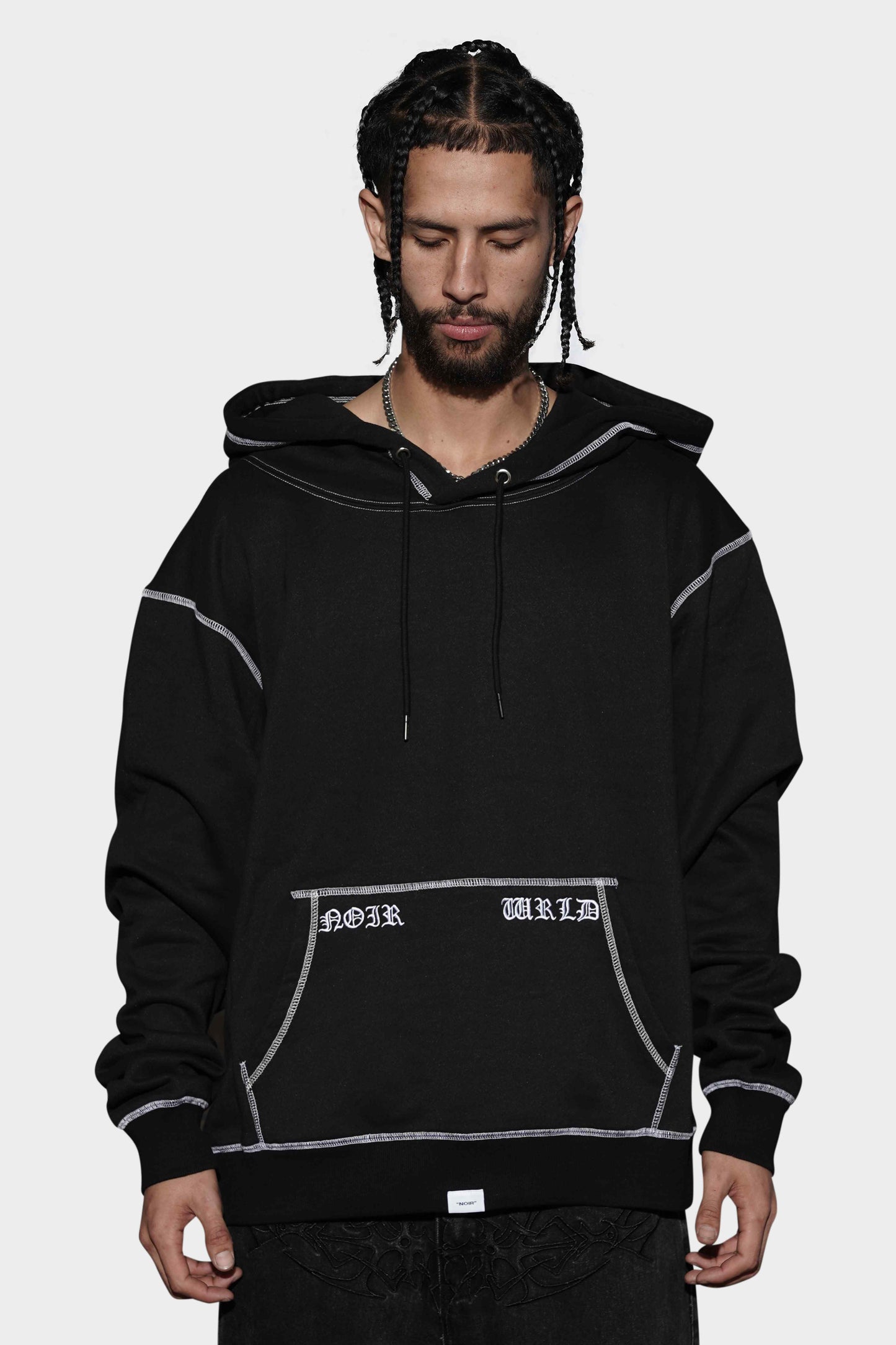 MEN'S TOPS - Excluding Pro Club
| Size | Chest (CM) | Chest (INCH) |
| --- | --- | --- |
| S | 84-92 | 34-36 |
| M | 92-100 | 37-39 |
| L | 100-108 | 40-42 |
| XL | 108-116 | 43-45 |
| XXL | 116-124 | 46-48 |
| 3XL | 124-130 | 49-51 |
| 4XL | 130-136 | 51-53 |
| 5XL | 136-142 | 53-55 |
MEN'S TOPS - Pro Club
| Size | Chest (CM) | Chest (INCH) |
| --- | --- | --- |
| M | 100-105 | 20-21 |
| L | 110-115 | 22-23 |
| XL | 120-125 | 24-25 |
| XXL | 132-137 | 26-27 |
| 3XL | 142-147 | 28-29 |
| 4XL | 150-155 | 29.5-30.5 |
| 5XL | 156-161 | 31-33 |
| 7XL | 168-173 | 33-35 |
MEN'S BOTTOMS
| Size (On Tag) | Waist (CM) | Waist (INCH) |
| --- | --- | --- |
| S | 76-81 | 30-32 |
| M | 81-86 | 32-34 |
| L | 86-91 | 34-36 |
| XL | 91-96 | 36-38 |
| XXL | 96-101 | 38-40 |
| 3XL | 101-107 | 40-42 |
| 4XL | 107-113 | 42-44 |
| 5XL | 113-119 | 44-46 |
MEN'S JACKETS + OUTERWEAR
| Size (On Tag) | Chest (CM) | Chest (INCH) | Length |
| --- | --- | --- | --- |
| S | 95-100 | 36-38 | Varies |
| M | 100-105 | 38-40 | Varies |
| L | 105-110 | 40-42 | Varies |
| XL | 110-115 | 42-44 | Varies |
| XXL | 115-120 | 44-46 | Varies |
| 3XL | 120-125 | 46-48 | Varies |
| 4XL | 125-130 | 48-50 | Varies |
| 5XL | 130-135 | 50-52 | Varies |
MEN'S JERSEYS
| SIZE | CHEST (CM) | LENGTH (CM) | CHEST (INCH) | LENGTH (INCH) |
| --- | --- | --- | --- | --- |
| S | 88 - 96 | 70.5 | 35 - 37.5 | 28 |
| M | 96 - 104 | 83.5 | 37.5 - 41 | 33 |
| L | 104 - 112 | 86.4 | 41 - 44 | 34 |
| XL | 112 - 124 | 89.2 | 44 - 48.5 | 35 |
| 2XL | 124 - 136 | 93 | 48.5 - 53.5 | 36 |
MEN'S HEADWEAR
| CM | INCHES | FITTED |
| --- | --- | --- |
| 54 | 21 ¼ | 6 ¾ |
| 55 | 21 ⅝ | 6 ⅞ |
| 56 | 22 | 7 |
| 57 | 22 ⅜ | 7 ⅛ |
| 58 | 22 ¾ | 7 ¼ |
| 59 | 23 ⅛ | 7 ⅜ |
| 60 | 23 ½ | 7 ½ |
| 61 | 23 ⅞ | 7 ⅝ |
| 62 | 24 ¼ | 7 ¾ |
| 63 | 24 5/8 | 7 ⅞ |
| 64 | 25 | 8 |
| 66 | 25 ¾ | 8 ¼ |
| 68 | 26 ½ | 8 ½ |
MEN'S FOOTWEAR
| US | UK | EU | CM | INCH |
| --- | --- | --- | --- | --- |
| 6 | 5 | 38 | 24 | 9.4 |
| 6.5 | 5.5 | 38.5 | 24.5 | 9.6 |
| 7 | 6 | 39 | 25 | 9.8 |
| 7.5 | 6.5 | 40 | 25.5 | 10 |
| 8 | 7 | 40.5 | 26 | 10.2 |
| 8.5 | 7.5 | 41 | 26.5 | 10.4 |
| 9 | 8 | 42 | 27 | 10.6 |
| 9.5 | 8.5 | 42.5 | 27.5 | 10.8 |
| 10 | 9 | 43.5 | 28 | 11 |
| 10.5 | 9.5 | 44.5 | 28.5 | 11.2 |
| 11 | 10 | 45 | 29 | 11.4 |
| 11.5 | 10.5 | 45.5 | 29.5 | 11.6 |
| 12 | 11 | 46 | 30 | 11.8 |
| 12.5 | 11.5 | 46.5 | 30.5 | 12 |
| 13 | 12 | 47 | 31 | 12.2 |
| 13.5 | 12.5 | 47.5 | 31.5 | 12.4 |
| 14 | 13 | 48 | 32 | 12.6 |
| 14.5 | 13.5 | 48.5 | 32.5 | 12.8 |
| 15 | 14 | 49 | 33 | 13 |
WOMEN'S TOPS
| Size (On Tag) | SIZE (AU & UK) | SIZE (US) | BUST (CM) | WAIST (CM) |
| --- | --- | --- | --- | --- |
| XXS | 4 - 6 | 1 - 2 | 73 - 78 | 57 - 62 |
| XS | 6 - 8 | 2 - 4 | 79 - 84 | 62 - 66 |
| S | 8 - 10 | 4 - 6 | 84 - 89 | 66 - 70 |
| M | 10 - 12 | 6 - 8 | 89 - 94 | 70 - 75 |
| L | 12 - 14 | 8 - 10 | 94 - 99 | 75 - 80 |
| XL | 14 - 16 | 10 - 12 | 99 - 101 | 80 - 87 |
| XXL | 16 - 18 | 12 - 14 | 101 - 106 | 87 - 91 |
WOMEN'S BOTTOMS
| Size (On Tag) | SIZE (AU & UK) | SIZE (US) | WAIST (CM) | HIPS (CM) |
| --- | --- | --- | --- | --- |
| XXS | 4 - 6 | 1 - 2 | 57 - 62 | 83 - 87 |
| XS | 6 - 8 | 2 - 4 | 62 - 66 | 87 - 92 |
| S | 8 - 10 | 4 - 6 | 66 - 70 | 87 - 92 |
| M | 10 - 12 | 6 - 8 | 70 - 75 | 98 - 102 |
| L | 12 - 14 | 8 - 10 | 75 - 80 | 98 - 102 |
| XL | 14 - 16 | 10 - 12 | 80 - 87 | 107 - 112 |
| XXL | 16 - 18 | 12 - 14 | 87 - 91 | 112 - 117 |
WOMEN'S HEADWEAR
| CM | INCHES | FITTED |
| --- | --- | --- |
| 54 | 21 ¼ | 6 ¾ |
| 55 | 21 ⅝ | 6 ⅞ |
| 56 | 22 | 7 |
| 57 | 22 ⅜ | 7 ⅛ |
| 58 | 22 ¾ | 7 ¼ |
| 59 | 23 ⅛ | 7 ⅜ |
| 60 | 23 ½ | 7 ½ |
| 61 | 23 ⅞ | 7 ⅝ |
| 62 | 24 ¼ | 7 ¾ |
| 63 | 63 ⅝ | 7 ⅞ |
| 64 | 25 | 8 |
| 66 | 25 ¾ | 8 ¼ |
| 68 | 26 ½ | 8 ½ |
WOMEN'S FOOTWEAR
| US | UK | EU | LENGTH (CM) | LENGTH (INCH) |
| --- | --- | --- | --- | --- |
| 5 | 3 | 35-36 | 21.6 | 8.5 |
| 5.5 | 3.5 | 36 | 22.05 | 8.7 |
| 6 | 4 | 36-37 | 22.5 | 8.9 |
| 6.5 | 4.5 | 37 | 23 | 9.1 |
| 7 | 5 | 37-38 | 23.5 | 9.3 |
| 7.5 | 5.5 | 38 | 23.8 | 9.4 |
| 8 | 6 | 38-39 | 24.1 | 9.5 |
| 8.5 | 6.5 | 39 | 24.6 | 9.7 |
| 9 | 7 | 39-40 | 25.1 | 9.9 |
| 9.5 | 7.5 | 40 | 25.5 | 10 |
| 10 | 8 | 40-41 | 25.9 | 10.2 |
| 10.5 | 8.5 | 41 | 26.3 | 10.4 |
| 11 | 9 | 41-42 | 26.7 | 10.5 |
KIDS FOOTWEAR
| US | UK | EUR | CM | INCH |
| --- | --- | --- | --- | --- |
| 0.5 | 0 | 16 | 8.3 | 3.3 |
| 1 | 0.5 | 16 | 8.9 | 3.5 |
| 1.5 | 1 | 17 | 9.2 | 3.6 |
| 2 | 1 | 17 | 9.5 | 3.7 |
| 2.5 | 1.5 | 18 | 10.2 | 4 |
| 3 | 2 | 18 | 10.5 | 4.1 |
| 3.5 | 2.5 | 19 | 10.8 | 4.3 |
| 4 | 3 | 19 | 11.4 | 4.5 |
| 4.5 | 3.5 | 20 | 11.7 | 4.6 |
| 5 | 4 | 20 | 12.1 | 4.8 |
| 5.5 | 4.5 | 21 | 12.7 | 5 |
| 6 | 5.5 | 22 | 13 | 5.1 |
| 6.5 | 5.5 | 22 | 13.3 | 5.2 |
| 7 | 6 | 23 | 14 | 5.5 |
| 7.5 | 6.5 | 23 | 14.3 | 5.6 |
| 8 | 7 | 24 | 14.6 | 5.7 |
| 8.5 | 7.5 | 25 | 15.2 | 6 |
| 9 | 8 | 25 | 15.6 | 6.1 |
| 9.5 | 8.5 | 26 | 15.9 | 6.3 |
| 10 | 9 | 27 | 16.5 | 6.5 |
| 10.5 | 9.5 | 27 | 16.8 | 6.6 |
| 11 | 28 | 10 | 17.1 | 6.7 |
| 11.5 | 29 | 10.5 | 17.8 | 7 |
| 12 | 30 | 11 | 18.1 | 7.1 |
| 12.5 | 30 | 11.5 | 18.4 | 7.2 |
| 13 | 31 | 12 | 19.1 | 7.5 |
| 1 | 32 | 13 | 19.7 | 7.8 |
| 1.5 | 33 | 14 | 20.3 | 8 |
| 2 | 33 | 1 | 20.6 | 8.1 |
| 2.5 | 34 | 1.5 | 21 | 8.3 |
| 3 | 34 | 2 | 21.6 | 8.5 |
| 3.5 | 35 | 2.5 | 21.9 | 8.6 |
| 4 | 36 | 3 | 22.2 | 8.7 |
| 4.5 | 36 | 3.5 | 22.9 | 9 |
| 5 | 37 | 4 | 23.2 | 9.1 |
| 5.5 | 37 | 4.5 | 23.5 | 9.3 |
| 6 | 38 | 5 | 24.1 | 9.5 |
| 6.5 | 38 | 5 | 24.4 | 9.6 |
| 7 | 39 | 6 | 24.8 | 9.8 |