Regular price
$101.00
Sale price
$81.00
Unit price
per
Size chart
View full details
Details
Presenting the Macron Men's Samoa Rugby World Cup 2023 Home Replica Jersey in a captivating shade of blue, a testament to the fervent spirit of Samoan rugby. Meticulously crafted, this jersey stands as an emblem of national pride and an essential addition to the collection of ardent rugby aficionados.
 Constructed with the highest standards of quality, this jersey ensures unparalleled comfort, enabling you to passionately support your team whether in the stadium or beyond. Its intricate design showcases meticulous detailing, proudly displaying the team's emblem on the chest alongside the iconic Rugby World Cup 2023 logo, symbolizing the unity of global rugby fraternity.
 This replica jersey not only pays homage to the rich heritage of Samoan rugby but also celebrates the nation's boundless enthusiasm for the sport. As Samoa takes center stage in the 2023 Rugby World Cup, wearing this jersey signifies your unwavering support and the shared love for rugby that transcends borders.
100% Polyester 
Shipping
free shipping for all orders that are over $100
Return
If you are not 100% satisfied with your purchase, you can return your item(s) to us for an immediate exchange.
Sizing
The fit was weird and too small at the waist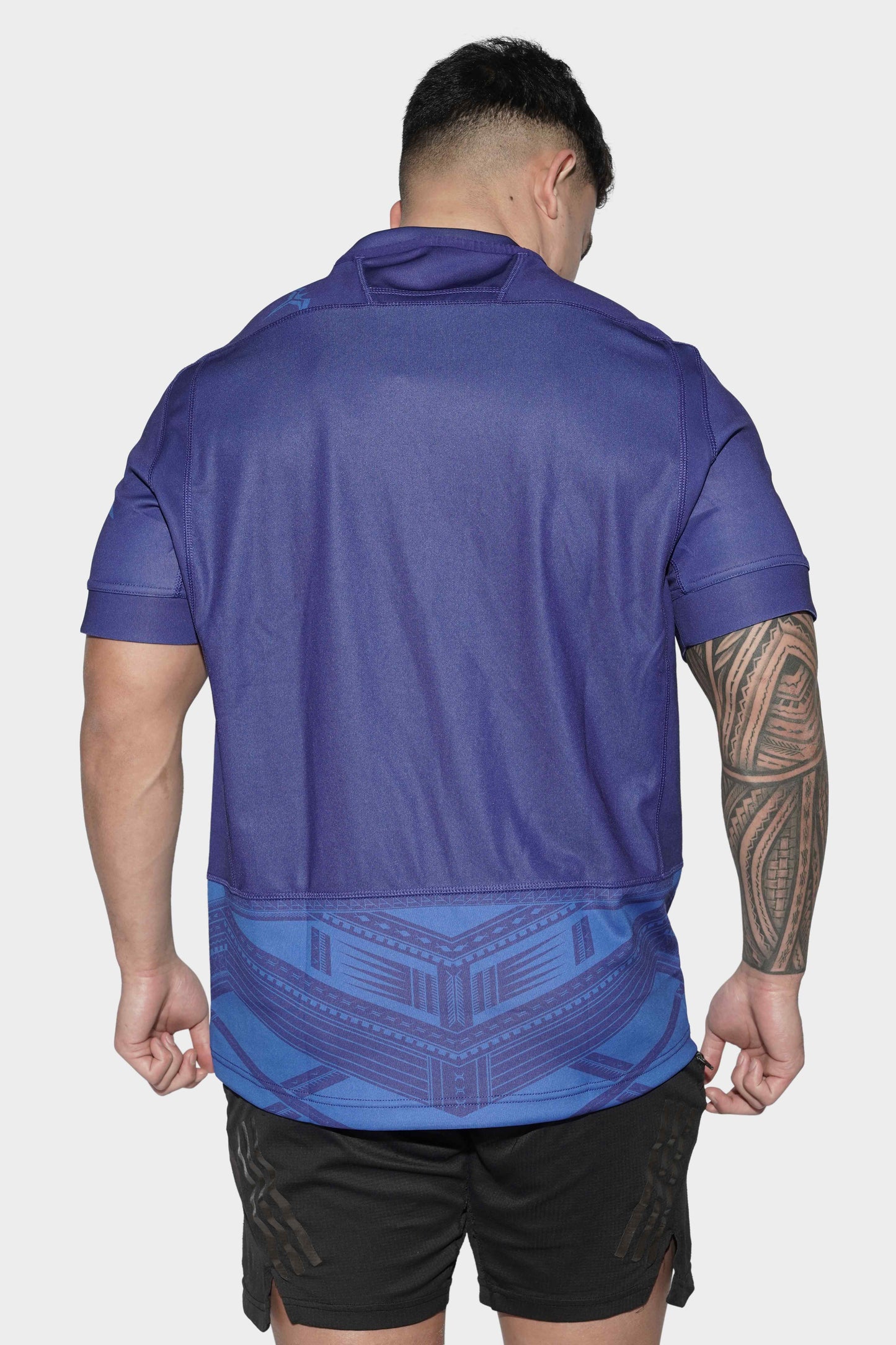 MEN'S TOPS - Excluding Pro Club
| Size | Chest (CM) | Chest (INCH) |
| --- | --- | --- |
| S | 84-92 | 34-36 |
| M | 92-100 | 37-39 |
| L | 100-108 | 40-42 |
| XL | 108-116 | 43-45 |
| XXL | 116-124 | 46-48 |
| 3XL | 124-130 | 49-51 |
| 4XL | 130-136 | 51-53 |
| 5XL | 136-142 | 53-55 |
MEN'S TOPS - Pro Club
| Size | Chest (CM) | Chest (INCH) |
| --- | --- | --- |
| M | 100-105 | 20-21 |
| L | 110-115 | 22-23 |
| XL | 120-125 | 24-25 |
| XXL | 132-137 | 26-27 |
| 3XL | 142-147 | 28-29 |
| 4XL | 150-155 | 29.5-30.5 |
| 5XL | 156-161 | 31-33 |
| 7XL | 168-173 | 33-35 |
MEN'S BOTTOMS
| Size (On Tag) | Waist (CM) | Waist (INCH) |
| --- | --- | --- |
| S | 76-81 | 30-32 |
| M | 81-86 | 32-34 |
| L | 86-91 | 34-36 |
| XL | 91-96 | 36-38 |
| XXL | 96-101 | 38-40 |
| 3XL | 101-107 | 40-42 |
| 4XL | 107-113 | 42-44 |
| 5XL | 113-119 | 44-46 |
MEN'S JACKETS + OUTERWEAR
| Size (On Tag) | Chest (CM) | Chest (INCH) | Length |
| --- | --- | --- | --- |
| S | 95-100 | 36-38 | Varies |
| M | 100-105 | 38-40 | Varies |
| L | 105-110 | 40-42 | Varies |
| XL | 110-115 | 42-44 | Varies |
| XXL | 115-120 | 44-46 | Varies |
| 3XL | 120-125 | 46-48 | Varies |
| 4XL | 125-130 | 48-50 | Varies |
| 5XL | 130-135 | 50-52 | Varies |
MEN'S JERSEYS
| SIZE | CHEST (CM) | LENGTH (CM) | CHEST (INCH) | LENGTH (INCH) |
| --- | --- | --- | --- | --- |
| S | 88 - 96 | 70.5 | 35 - 37.5 | 28 |
| M | 96 - 104 | 83.5 | 37.5 - 41 | 33 |
| L | 104 - 112 | 86.4 | 41 - 44 | 34 |
| XL | 112 - 124 | 89.2 | 44 - 48.5 | 35 |
| 2XL | 124 - 136 | 93 | 48.5 - 53.5 | 36 |
MEN'S HEADWEAR
| CM | INCHES | FITTED |
| --- | --- | --- |
| 54 | 21 ¼ | 6 ¾ |
| 55 | 21 ⅝ | 6 ⅞ |
| 56 | 22 | 7 |
| 57 | 22 ⅜ | 7 ⅛ |
| 58 | 22 ¾ | 7 ¼ |
| 59 | 23 ⅛ | 7 ⅜ |
| 60 | 23 ½ | 7 ½ |
| 61 | 23 ⅞ | 7 ⅝ |
| 62 | 24 ¼ | 7 ¾ |
| 63 | 24 5/8 | 7 ⅞ |
| 64 | 25 | 8 |
| 66 | 25 ¾ | 8 ¼ |
| 68 | 26 ½ | 8 ½ |
MEN'S FOOTWEAR
| US | UK | EU | CM | INCH |
| --- | --- | --- | --- | --- |
| 6 | 5 | 38 | 24 | 9.4 |
| 6.5 | 5.5 | 38.5 | 24.5 | 9.6 |
| 7 | 6 | 39 | 25 | 9.8 |
| 7.5 | 6.5 | 40 | 25.5 | 10 |
| 8 | 7 | 40.5 | 26 | 10.2 |
| 8.5 | 7.5 | 41 | 26.5 | 10.4 |
| 9 | 8 | 42 | 27 | 10.6 |
| 9.5 | 8.5 | 42.5 | 27.5 | 10.8 |
| 10 | 9 | 43.5 | 28 | 11 |
| 10.5 | 9.5 | 44.5 | 28.5 | 11.2 |
| 11 | 10 | 45 | 29 | 11.4 |
| 11.5 | 10.5 | 45.5 | 29.5 | 11.6 |
| 12 | 11 | 46 | 30 | 11.8 |
| 12.5 | 11.5 | 46.5 | 30.5 | 12 |
| 13 | 12 | 47 | 31 | 12.2 |
| 13.5 | 12.5 | 47.5 | 31.5 | 12.4 |
| 14 | 13 | 48 | 32 | 12.6 |
| 14.5 | 13.5 | 48.5 | 32.5 | 12.8 |
| 15 | 14 | 49 | 33 | 13 |
WOMEN'S TOPS
| Size (On Tag) | SIZE (AU & UK) | SIZE (US) | BUST (CM) | WAIST (CM) |
| --- | --- | --- | --- | --- |
| XXS | 4 - 6 | 1 - 2 | 73 - 78 | 57 - 62 |
| XS | 6 - 8 | 2 - 4 | 79 - 84 | 62 - 66 |
| S | 8 - 10 | 4 - 6 | 84 - 89 | 66 - 70 |
| M | 10 - 12 | 6 - 8 | 89 - 94 | 70 - 75 |
| L | 12 - 14 | 8 - 10 | 94 - 99 | 75 - 80 |
| XL | 14 - 16 | 10 - 12 | 99 - 101 | 80 - 87 |
| XXL | 16 - 18 | 12 - 14 | 101 - 106 | 87 - 91 |
WOMEN'S BOTTOMS
| Size (On Tag) | SIZE (AU & UK) | SIZE (US) | WAIST (CM) | HIPS (CM) |
| --- | --- | --- | --- | --- |
| XXS | 4 - 6 | 1 - 2 | 57 - 62 | 83 - 87 |
| XS | 6 - 8 | 2 - 4 | 62 - 66 | 87 - 92 |
| S | 8 - 10 | 4 - 6 | 66 - 70 | 87 - 92 |
| M | 10 - 12 | 6 - 8 | 70 - 75 | 98 - 102 |
| L | 12 - 14 | 8 - 10 | 75 - 80 | 98 - 102 |
| XL | 14 - 16 | 10 - 12 | 80 - 87 | 107 - 112 |
| XXL | 16 - 18 | 12 - 14 | 87 - 91 | 112 - 117 |
WOMEN'S HEADWEAR
| CM | INCHES | FITTED |
| --- | --- | --- |
| 54 | 21 ¼ | 6 ¾ |
| 55 | 21 ⅝ | 6 ⅞ |
| 56 | 22 | 7 |
| 57 | 22 ⅜ | 7 ⅛ |
| 58 | 22 ¾ | 7 ¼ |
| 59 | 23 ⅛ | 7 ⅜ |
| 60 | 23 ½ | 7 ½ |
| 61 | 23 ⅞ | 7 ⅝ |
| 62 | 24 ¼ | 7 ¾ |
| 63 | 63 ⅝ | 7 ⅞ |
| 64 | 25 | 8 |
| 66 | 25 ¾ | 8 ¼ |
| 68 | 26 ½ | 8 ½ |
WOMEN'S FOOTWEAR
| US | UK | EU | LENGTH (CM) | LENGTH (INCH) |
| --- | --- | --- | --- | --- |
| 5 | 3 | 35-36 | 21.6 | 8.5 |
| 5.5 | 3.5 | 36 | 22.05 | 8.7 |
| 6 | 4 | 36-37 | 22.5 | 8.9 |
| 6.5 | 4.5 | 37 | 23 | 9.1 |
| 7 | 5 | 37-38 | 23.5 | 9.3 |
| 7.5 | 5.5 | 38 | 23.8 | 9.4 |
| 8 | 6 | 38-39 | 24.1 | 9.5 |
| 8.5 | 6.5 | 39 | 24.6 | 9.7 |
| 9 | 7 | 39-40 | 25.1 | 9.9 |
| 9.5 | 7.5 | 40 | 25.5 | 10 |
| 10 | 8 | 40-41 | 25.9 | 10.2 |
| 10.5 | 8.5 | 41 | 26.3 | 10.4 |
| 11 | 9 | 41-42 | 26.7 | 10.5 |
KIDS FOOTWEAR
| US | UK | EUR | CM | INCH |
| --- | --- | --- | --- | --- |
| 0.5 | 0 | 16 | 8.3 | 3.3 |
| 1 | 0.5 | 16 | 8.9 | 3.5 |
| 1.5 | 1 | 17 | 9.2 | 3.6 |
| 2 | 1 | 17 | 9.5 | 3.7 |
| 2.5 | 1.5 | 18 | 10.2 | 4 |
| 3 | 2 | 18 | 10.5 | 4.1 |
| 3.5 | 2.5 | 19 | 10.8 | 4.3 |
| 4 | 3 | 19 | 11.4 | 4.5 |
| 4.5 | 3.5 | 20 | 11.7 | 4.6 |
| 5 | 4 | 20 | 12.1 | 4.8 |
| 5.5 | 4.5 | 21 | 12.7 | 5 |
| 6 | 5.5 | 22 | 13 | 5.1 |
| 6.5 | 5.5 | 22 | 13.3 | 5.2 |
| 7 | 6 | 23 | 14 | 5.5 |
| 7.5 | 6.5 | 23 | 14.3 | 5.6 |
| 8 | 7 | 24 | 14.6 | 5.7 |
| 8.5 | 7.5 | 25 | 15.2 | 6 |
| 9 | 8 | 25 | 15.6 | 6.1 |
| 9.5 | 8.5 | 26 | 15.9 | 6.3 |
| 10 | 9 | 27 | 16.5 | 6.5 |
| 10.5 | 9.5 | 27 | 16.8 | 6.6 |
| 11 | 28 | 10 | 17.1 | 6.7 |
| 11.5 | 29 | 10.5 | 17.8 | 7 |
| 12 | 30 | 11 | 18.1 | 7.1 |
| 12.5 | 30 | 11.5 | 18.4 | 7.2 |
| 13 | 31 | 12 | 19.1 | 7.5 |
| 1 | 32 | 13 | 19.7 | 7.8 |
| 1.5 | 33 | 14 | 20.3 | 8 |
| 2 | 33 | 1 | 20.6 | 8.1 |
| 2.5 | 34 | 1.5 | 21 | 8.3 |
| 3 | 34 | 2 | 21.6 | 8.5 |
| 3.5 | 35 | 2.5 | 21.9 | 8.6 |
| 4 | 36 | 3 | 22.2 | 8.7 |
| 4.5 | 36 | 3.5 | 22.9 | 9 |
| 5 | 37 | 4 | 23.2 | 9.1 |
| 5.5 | 37 | 4.5 | 23.5 | 9.3 |
| 6 | 38 | 5 | 24.1 | 9.5 |
| 6.5 | 38 | 5 | 24.4 | 9.6 |
| 7 | 39 | 6 | 24.8 | 9.8 |