Regular price
$24.00
Sale price
$24.00
Unit price
per
Size chart
View full details
4 X
$6.00
Details
The original heavyweight t-shirt is famous for its thick feel, shrink resistance, and tight collar.
Khaki Colour 

Perfect fit for wearing oversized shirts

Made with 100% Cotton 

Durable crew neck collar 
Available in sizes M - 7XL
Assembled in Mexico from US components
High Levelled Comfort 
MODEL USUALLY WEARS
TOPS: L
BOTTOMS: 34
SHOES: 11
HEIGHT: 185CM

PRODUCT CODE: 10120
Brand
Quality is the driving force behind every Pro club Product, preferring a substance over flash and strive for the authentic, classic and true.
Shipping
free shipping for all orders that are over $100
Return
If you are not 100% satisfied with your purchase, you can return your item(s) to us for an immediate exchange.
Pro Club Heavyweight Regular Tee Khaki
comfortable & durable
i love my shirts. i bought 2 of the same shirts just in different colours and the material and feel of it all is a 10/10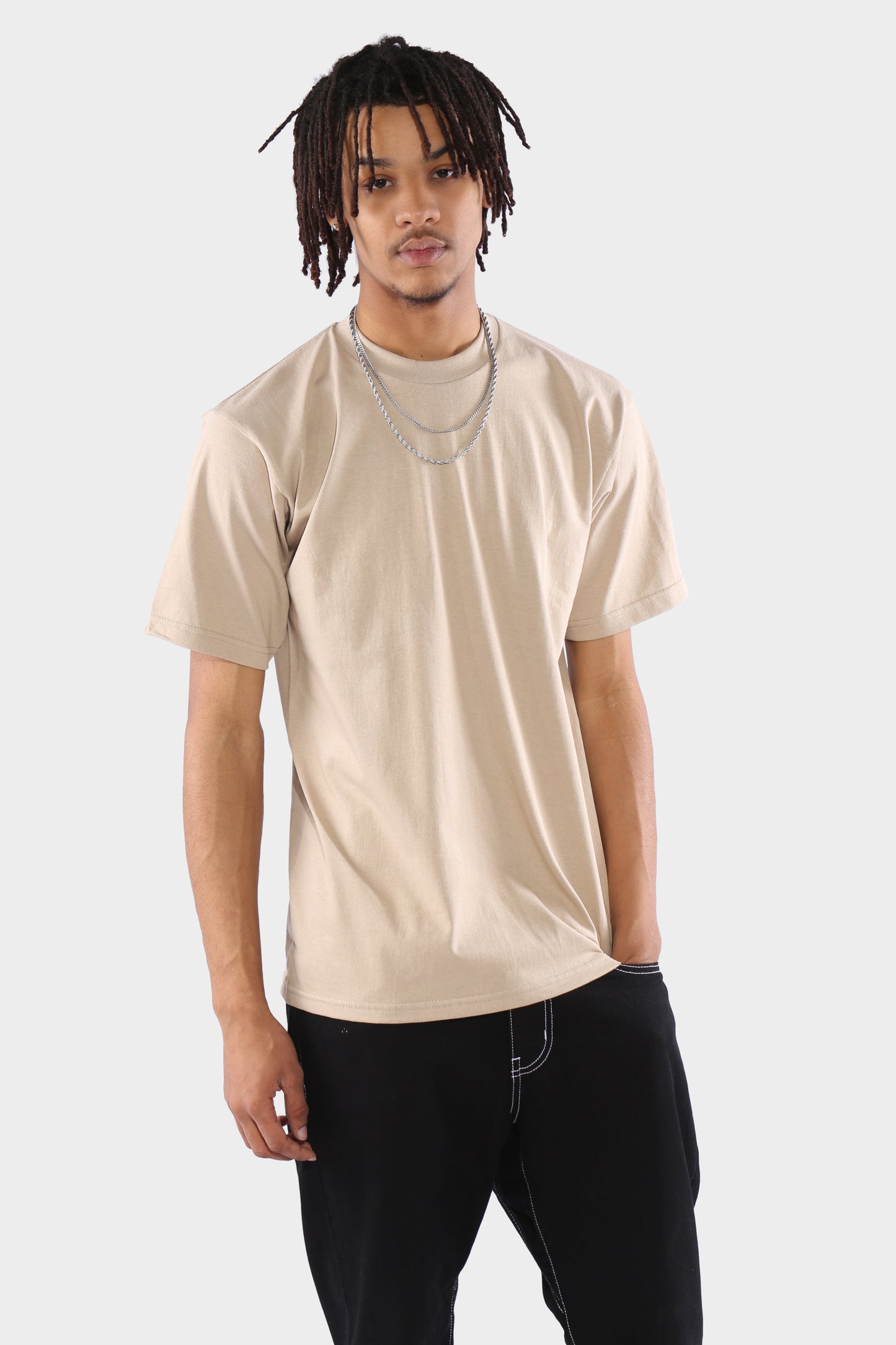 MEN'S TOPS - Excluding Pro Club
| Size | Chest (CM) | Chest (INCH) |
| --- | --- | --- |
| S | 84-92 | 34-36 |
| M | 92-100 | 37-39 |
| L | 100-108 | 40-42 |
| XL | 108-116 | 43-45 |
| XXL | 116-124 | 46-48 |
| 3XL | 124-130 | 49-51 |
| 4XL | 130-136 | 51-53 |
| 5XL | 136-142 | 53-55 |
MEN'S TOPS - Pro Club
| Size | Chest (CM) | Chest (INCH) |
| --- | --- | --- |
| M | 100-105 | 20-21 |
| L | 110-115 | 22-23 |
| XL | 120-125 | 24-25 |
| XXL | 132-137 | 26-27 |
| 3XL | 142-147 | 28-29 |
| 4XL | 150-155 | 29.5-30.5 |
| 5XL | 156-161 | 31-33 |
| 7XL | 168-173 | 33-35 |
MEN'S BOTTOMS
| Size (On Tag) | Waist (CM) | Waist (INCH) |
| --- | --- | --- |
| S | 76-81 | 30-32 |
| M | 81-86 | 32-34 |
| L | 86-91 | 34-36 |
| XL | 91-96 | 36-38 |
| XXL | 96-101 | 38-40 |
| 3XL | 101-107 | 40-42 |
| 4XL | 107-113 | 42-44 |
| 5XL | 113-119 | 44-46 |
MEN'S JACKETS + OUTERWEAR
| Size (On Tag) | Chest (CM) | Chest (INCH) | Length |
| --- | --- | --- | --- |
| S | 95-100 | 36-38 | Varies |
| M | 100-105 | 38-40 | Varies |
| L | 105-110 | 40-42 | Varies |
| XL | 110-115 | 42-44 | Varies |
| XXL | 115-120 | 44-46 | Varies |
| 3XL | 120-125 | 46-48 | Varies |
| 4XL | 125-130 | 48-50 | Varies |
| 5XL | 130-135 | 50-52 | Varies |
MEN'S JERSEYS
| SIZE | CHEST (CM) | LENGTH (CM) | CHEST (INCH) | LENGTH (INCH) |
| --- | --- | --- | --- | --- |
| S | 88 - 96 | 70.5 | 35 - 37.5 | 28 |
| M | 96 - 104 | 83.5 | 37.5 - 41 | 33 |
| L | 104 - 112 | 86.4 | 41 - 44 | 34 |
| XL | 112 - 124 | 89.2 | 44 - 48.5 | 35 |
| 2XL | 124 - 136 | 93 | 48.5 - 53.5 | 36 |
MEN'S HEADWEAR
| CM | INCHES | FITTED |
| --- | --- | --- |
| 54 | 21 ¼ | 6 ¾ |
| 55 | 21 ⅝ | 6 ⅞ |
| 56 | 22 | 7 |
| 57 | 22 ⅜ | 7 ⅛ |
| 58 | 22 ¾ | 7 ¼ |
| 59 | 23 ⅛ | 7 ⅜ |
| 60 | 23 ½ | 7 ½ |
| 61 | 23 ⅞ | 7 ⅝ |
| 62 | 24 ¼ | 7 ¾ |
| 63 | 24 5/8 | 7 ⅞ |
| 64 | 25 | 8 |
| 66 | 25 ¾ | 8 ¼ |
| 68 | 26 ½ | 8 ½ |
MEN'S FOOTWEAR
| US | UK | EU | CM | INCH |
| --- | --- | --- | --- | --- |
| 6 | 5 | 38 | 24 | 9.4 |
| 6.5 | 5.5 | 38.5 | 24.5 | 9.6 |
| 7 | 6 | 39 | 25 | 9.8 |
| 7.5 | 6.5 | 40 | 25.5 | 10 |
| 8 | 7 | 40.5 | 26 | 10.2 |
| 8.5 | 7.5 | 41 | 26.5 | 10.4 |
| 9 | 8 | 42 | 27 | 10.6 |
| 9.5 | 8.5 | 42.5 | 27.5 | 10.8 |
| 10 | 9 | 43.5 | 28 | 11 |
| 10.5 | 9.5 | 44.5 | 28.5 | 11.2 |
| 11 | 10 | 45 | 29 | 11.4 |
| 11.5 | 10.5 | 45.5 | 29.5 | 11.6 |
| 12 | 11 | 46 | 30 | 11.8 |
| 12.5 | 11.5 | 46.5 | 30.5 | 12 |
| 13 | 12 | 47 | 31 | 12.2 |
| 13.5 | 12.5 | 47.5 | 31.5 | 12.4 |
| 14 | 13 | 48 | 32 | 12.6 |
| 14.5 | 13.5 | 48.5 | 32.5 | 12.8 |
| 15 | 14 | 49 | 33 | 13 |
WOMEN'S TOPS
| Size (On Tag) | SIZE (AU & UK) | SIZE (US) | BUST (CM) | WAIST (CM) |
| --- | --- | --- | --- | --- |
| XXS | 4 - 6 | 1 - 2 | 73 - 78 | 57 - 62 |
| XS | 6 - 8 | 2 - 4 | 79 - 84 | 62 - 66 |
| S | 8 - 10 | 4 - 6 | 84 - 89 | 66 - 70 |
| M | 10 - 12 | 6 - 8 | 89 - 94 | 70 - 75 |
| L | 12 - 14 | 8 - 10 | 94 - 99 | 75 - 80 |
| XL | 14 - 16 | 10 - 12 | 99 - 101 | 80 - 87 |
| XXL | 16 - 18 | 12 - 14 | 101 - 106 | 87 - 91 |
WOMEN'S BOTTOMS
| Size (On Tag) | SIZE (AU & UK) | SIZE (US) | WAIST (CM) | HIPS (CM) |
| --- | --- | --- | --- | --- |
| XXS | 4 - 6 | 1 - 2 | 57 - 62 | 83 - 87 |
| XS | 6 - 8 | 2 - 4 | 62 - 66 | 87 - 92 |
| S | 8 - 10 | 4 - 6 | 66 - 70 | 87 - 92 |
| M | 10 - 12 | 6 - 8 | 70 - 75 | 98 - 102 |
| L | 12 - 14 | 8 - 10 | 75 - 80 | 98 - 102 |
| XL | 14 - 16 | 10 - 12 | 80 - 87 | 107 - 112 |
| XXL | 16 - 18 | 12 - 14 | 87 - 91 | 112 - 117 |
WOMEN'S HEADWEAR
| CM | INCHES | FITTED |
| --- | --- | --- |
| 54 | 21 ¼ | 6 ¾ |
| 55 | 21 ⅝ | 6 ⅞ |
| 56 | 22 | 7 |
| 57 | 22 ⅜ | 7 ⅛ |
| 58 | 22 ¾ | 7 ¼ |
| 59 | 23 ⅛ | 7 ⅜ |
| 60 | 23 ½ | 7 ½ |
| 61 | 23 ⅞ | 7 ⅝ |
| 62 | 24 ¼ | 7 ¾ |
| 63 | 63 ⅝ | 7 ⅞ |
| 64 | 25 | 8 |
| 66 | 25 ¾ | 8 ¼ |
| 68 | 26 ½ | 8 ½ |
WOMEN'S FOOTWEAR
| US | UK | EU | LENGTH (CM) | LENGTH (INCH) |
| --- | --- | --- | --- | --- |
| 5 | 3 | 35-36 | 21.6 | 8.5 |
| 5.5 | 3.5 | 36 | 22.05 | 8.7 |
| 6 | 4 | 36-37 | 22.5 | 8.9 |
| 6.5 | 4.5 | 37 | 23 | 9.1 |
| 7 | 5 | 37-38 | 23.5 | 9.3 |
| 7.5 | 5.5 | 38 | 23.8 | 9.4 |
| 8 | 6 | 38-39 | 24.1 | 9.5 |
| 8.5 | 6.5 | 39 | 24.6 | 9.7 |
| 9 | 7 | 39-40 | 25.1 | 9.9 |
| 9.5 | 7.5 | 40 | 25.5 | 10 |
| 10 | 8 | 40-41 | 25.9 | 10.2 |
| 10.5 | 8.5 | 41 | 26.3 | 10.4 |
| 11 | 9 | 41-42 | 26.7 | 10.5 |
KIDS FOOTWEAR
| US | UK | EUR | CM | INCH |
| --- | --- | --- | --- | --- |
| 0.5 | 0 | 16 | 8.3 | 3.3 |
| 1 | 0.5 | 16 | 8.9 | 3.5 |
| 1.5 | 1 | 17 | 9.2 | 3.6 |
| 2 | 1 | 17 | 9.5 | 3.7 |
| 2.5 | 1.5 | 18 | 10.2 | 4 |
| 3 | 2 | 18 | 10.5 | 4.1 |
| 3.5 | 2.5 | 19 | 10.8 | 4.3 |
| 4 | 3 | 19 | 11.4 | 4.5 |
| 4.5 | 3.5 | 20 | 11.7 | 4.6 |
| 5 | 4 | 20 | 12.1 | 4.8 |
| 5.5 | 4.5 | 21 | 12.7 | 5 |
| 6 | 5.5 | 22 | 13 | 5.1 |
| 6.5 | 5.5 | 22 | 13.3 | 5.2 |
| 7 | 6 | 23 | 14 | 5.5 |
| 7.5 | 6.5 | 23 | 14.3 | 5.6 |
| 8 | 7 | 24 | 14.6 | 5.7 |
| 8.5 | 7.5 | 25 | 15.2 | 6 |
| 9 | 8 | 25 | 15.6 | 6.1 |
| 9.5 | 8.5 | 26 | 15.9 | 6.3 |
| 10 | 9 | 27 | 16.5 | 6.5 |
| 10.5 | 9.5 | 27 | 16.8 | 6.6 |
| 11 | 28 | 10 | 17.1 | 6.7 |
| 11.5 | 29 | 10.5 | 17.8 | 7 |
| 12 | 30 | 11 | 18.1 | 7.1 |
| 12.5 | 30 | 11.5 | 18.4 | 7.2 |
| 13 | 31 | 12 | 19.1 | 7.5 |
| 1 | 32 | 13 | 19.7 | 7.8 |
| 1.5 | 33 | 14 | 20.3 | 8 |
| 2 | 33 | 1 | 20.6 | 8.1 |
| 2.5 | 34 | 1.5 | 21 | 8.3 |
| 3 | 34 | 2 | 21.6 | 8.5 |
| 3.5 | 35 | 2.5 | 21.9 | 8.6 |
| 4 | 36 | 3 | 22.2 | 8.7 |
| 4.5 | 36 | 3.5 | 22.9 | 9 |
| 5 | 37 | 4 | 23.2 | 9.1 |
| 5.5 | 37 | 4.5 | 23.5 | 9.3 |
| 6 | 38 | 5 | 24.1 | 9.5 |
| 6.5 | 38 | 5 | 24.4 | 9.6 |
| 7 | 39 | 6 | 24.8 | 9.8 |